The Family Daughter
One Thing I Desire
The Young Maid
KBR Cookbook
Encouraging Biographies
Stationery & Greeting Cards
Bookmarks & Magnets
Gift Certificates
2014 Calendar



Subscribe
Current Issue
Back Issues
Read Sample Articles





Bookmark Set to Go
Along with Your Book Order: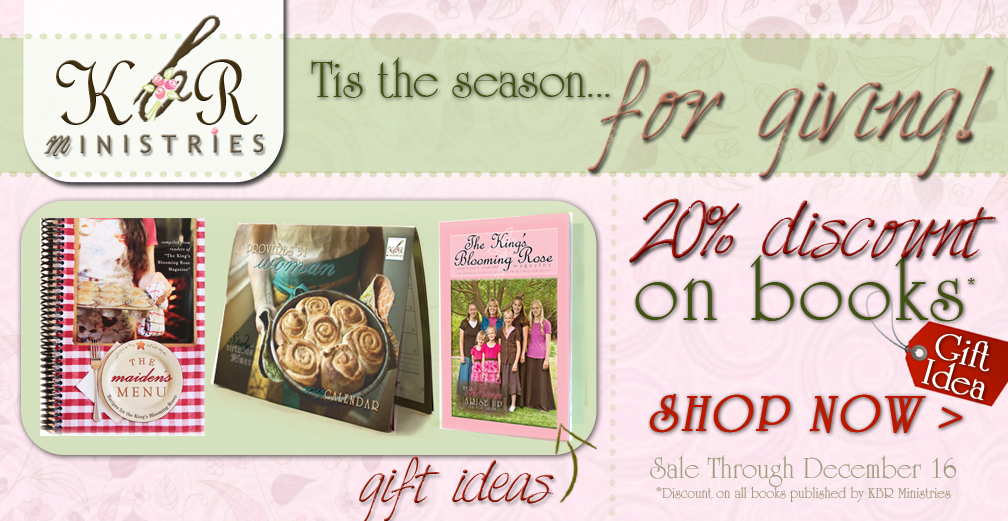 the · family · daughter:
Becoming Pillars of Strength in Our Father's House

by Sarah L. Bryant

How can daughters become their family's pillar according to Psalm 144? Sharing from her own struggles and triumphs, homeschooler Sarah Bryant encourages young ladies to become vital cornerstones in their father's home, while preparing for godly womanhood. Filled with encouragement and practical ideas, The Family Daughter will help Christian girls begin the journey of being their family's pillar of strength and virtue....
Full Details»

The Family Daughter (208 pp)......$12.00 $9.60

Click here for more bulk rates

one · thing · i · desire:
To Know Christ More

by Sarah L. Bryant

Has your life been engulfed by one consuming passion — that you would more deeply know your Savior Jesus Christ and the fullness of the Gospel? One Thing I Desire is penned to encourage you in your quest to seek and know your Redeemer through His Word, that your heart would be enraptured by Christ's great work accomplished in the Gospel....
Full Details»

One Thing I Desire (152 pp).......$11.00 $8.80

Click here for more bulk rates

the · young · maid

Compiled from The King's Blooming Rose Magazine

Would you like to redeem the time as a young lady and learn skills that would benefit you as a future wife and mother? Would you like valuable advice, recipes, and tips from other girls which will help you prepare to be a keeper at home? Find four years of "The Young Maid" column from KBR Magazine in this booklet...
Full Details»

36 pp., paperback...........$6.00 $4.80

36 pp., ebook (digital .pdf)........$4.00 $3.20


the · maiden's ·menu

Recipes for The King's Blooming Roses

The Maiden's Menu is a compilation of 365 easy-to-read recipes from readers of KBR Magazine. From wholesome smoothies, gluten-free breads and desserts, salad dressings, to recipes for homemade toothpaste, hair spray, and toxin-free cleaners - you are sure to find every recipe you need in this cookbook....
Full Details»

The Maiden's Menu Cookbook (292 pp.) .............$14.00 $10.40






bulk bundle

Bundle of eight copies of One Thing I Desire and eight copies of The Family Daughter for friends. Click here for more bulk rates

set of two books

One Thing I Desire and The Family Daughter

$23.00 $21.00 16.80

Excellent Biographies

Each of the books in this series focuses on a woman in history who has impacted the world for Christ. There are several predominant themes that run parallel in the lives of the women of this series: 1) they each had their own relationship with Christ; 2) they were intellectually strong, theologically like-minded, and of a kindred spirit with their husbands; 3) they shared a sweet spiritual union with their husbands; 4) they believed one of the best ways that they could serve God was to allow Him to cut and fashion them into the "velvet steel" upon which their husbands could lean; 5) they embraced their husbands' vision and ministry fully, and gave of themselves not only to their husbands and children, but also to the church and the spread of the gospel; 6) there came a point in their husbands' lives where they faced large-scale persecution due to contending for the faith.
We are pleased to offer these excellent, challenging biographies, and pray that as you study the lives of these Christian women, you as a daughter will embrace the vision they had and be pointed to the fountain of love from which these women drew - the Lord Jesus Christ.

delighting · in · her · heavenly · bridegroom:

The Memoirs of Harriet Newell, Teenage Missionary Wife


Most people recognize Adoniram and Ann Judson as America's first missionaries -- but not many know that Samuel and Harriet Newell were part of their team. Harriet left the shores of America at the age of 18 with the certain expectation of death. Harriet lived in the shadow of Christ and welcomed her Homegoing shortly after she and her husband sailed for the foreign mission field. Harriet's brief yet powerful life remains a challenge to our generation, hundreds of years after her passing. EXCELLENT! Full Details»

300 pp. paperback.........$10.50


following · her · beloved:

The Memoirs of Henrietta Shuck, Missionary Wife and Mother


Henrietta was a devoted daughter who loved her parents dearly. However, while she loved her family, she loved Christ more. When missionary Lewis Shuck proposed to Henrietta, she accepted and accompanied her husband to China not only to proclaim the gospel, but to partake of it. She was America's first female missionary to China. This biography of Henrietta's vibrant life as a missionary wife and mother points out several lessons we can learn from her example - her love for Christ, eternal perspective of missions, surrender to God's will, trust in His care, study of the Word, submission to parents, faithfulness to family, and practice as a hospitable homeschooling mother.
Full Details»

236 pp. paperback.........$10.00


in · love · with · christ:

The Narrative of Sarah Edwards


The example of Sarah Edwards is a refreshing challenge to our modern-day spiritual complacency. This narrative relates the faithfulness of Sarah as a godly wife, fruitfulness of their uncommon marriage union, submission and love during times of trial, humility and repentance over sin, and her constant overflowing love for Christ and His beauty. Full Details»

ann · judson :

Missionary Wife


For Christ's sake, Ann left her homeland for the mission field as one of the first missionary wives of America. Her devotion to the Lamb and willingness to follow Him wherever He led made her radiate His beauty and display His worth. This book draws from her example of dedication to the Gospel and her role as missionary wife, faithfulness despite loneliness and sickness, trust in God's sovereignty, and her holiness of personal life.
Full Details»

186 pp. paperback.........$9.50